New Releases from
Star Edwards
and Mel Bay Publishing

2019 Gigs

February 23, 2019
8 - 10:30 pm
Swallow Hill Music School
Teacher Feature Concert
71 East Yale Denver CO
May 12 - July 28 - August 25
Porter Place Retirement Home
1001 E Yale Ave, Denver, CO 80210
3 - 4 pm
July 11, 2019 + August 22, 2019
Civic Center Eats
11 - 2 pm
Downtown Denver - Civic Center Plaza
August 22, 2019
Denver Public Library Presentation
9 - noon
10 W 14th Ave Pkwy, Denver, CO 80204
August 27, 2019
1:30 - 2:30
Memory Care
Schlessman Library
100 Poplar St
Dec.8, 2019
1 to 3 pm
Highlands Ranch Library
9292 Ridgeline Blvd
Dec 17th
5-7 pm
Bear Valley Library
5171 W. Darthmouth Ave
Dec 21, 2019
noon to 2 pm
Mount Vernon Country Club
Holiday Tea
24933 Clubhouse Circle
New Releases from
Star Edwards and
Lyon and Healey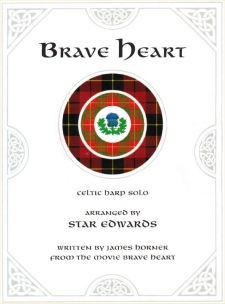 Welcome to Star Edwards Celtic harp music
Star Edwards is a multi-faceted performer in concert venues to background ambiance, Mel Bay music Publications author and Swallow Hill Music School harp teacher. She is at home delivering historical musical presentations for group of 30 to 500 people.
For weddings, or special events that require a professional, artistic touch, nothing says elegance and ambiance more than harp music! Performing an expansive repertoire: classical, pop, swing/blues, Renaissance, medieval, South American, folk, Celtic, movie tunes, multi-cultural, Broadway standards, holiday, Disney, operatic and oldies.
Star feels equally comfortable playing rock n roll tunes from Van Morrison, Leon Russell, Elton John, Paul Simon, Sting, Beatles, Carol King, Ed Sheeran, John Legend, Lady Gaga, Andrea Bocelli, Bruno Mars, Adele and more!
She delivers an entertaining performance that brings magical cultural connections with heart felt stories and humorous observations of life. Her playing is steeped in the mythology of harp from the Celtic cultures recalling the ancient voice of her heritage. A truly contemporary interpretation speaks through her own finely crafted original songs.
A versatile musician, equally comfortable on the stage of the Paramount Theater playing for 2000 people or playing for an intimate romantic dinner for two. Star is flexible and able to think on her feet at times where events experience a glitch in plans.
Music that blends the rhythm of the heart with the spirit of the world.

---
"Classic interpretation, professionally performed" -- Dave Lacomte, My Brother's Bar, Denver
"Whether solo or trio, background for a reception or as a featured headliner, count on her audience thrilling artistry and consummate professionalism" -- Jim Schwartzkopff, Venture West Talent Agency
"When listening to Star Edwards' recent harp recordings, her talent is abundantly clear. I am especially impressed not only by her technical proficiency but also with the musicality with which everything is performed. Star's arrangements have a pleasant upbeat character reminiscent of traditional folk harp tunes, some of which are complimented by guitar, koto and drums. Whether in live performance or on CD, everyone should check out her work." -- Dr. Ted Nichelson, pedal harpist

"Star's music represents the finest of her genre, evocative and powerful yet with a lightness of spirit and touch. Listen closely and let the music take you where it will." -- Don Slepian, host of ArtMusicCoffeehouse.com

When the din of the drum sets of rock bands, the chant of the pipes, and the silvery sounds of ballad singers find some distance, my favorite moment of any Irish Festival has been to sit in the shade and hear Star Edwards play the harp ... not simply to play it, but to play it in that way that made it the national symbol of Ireland. And it is, and her music is, Irish like nothing else." -- Brian Clancy, Brian@irishrow.com

Star Edwards' band or trio is a perfect act for an outdoor festival.....very magical!" -- Rhonda Welch, Greeley Arts Promoter

| | |
| --- | --- |
| Star Edwards and KingBeat | Star and KingBeat combined forces in 2010 to create a five piece folk rock band. Imbuing new wave Irish-rock versions of ancient Celtic tunes with their jazz-fusion flavor, their exploration of Celtic, Folk, New Age, Fusion Jazz and Rock music exemplifies the unique sound they call World Harp Rock. Performing hits from the likes of calypso icon, Harry Belafonte, Nouveau flamenco artist, Ottmar Liebert, and jazz guitarist, George Benson they focused their energy on expanding the boundaries of contemporary Celtic, New Age and World music. |

Available for Presentation Engagements

Irish Harp History and Song - Travel the path of long ago when Irish Bards held the keys to Irish history through their wit of storytelling. Learn how the harp came to Ireland and the influence of Italian music on a most famous 17th century harper composer and more!

How Dream Changed History - presenting original music celebrating historical dreams that changed history including dreams from Einstein, St. Patrick, Kekule, G.W. Bush, Jefferson and Adams, Larry Page, Constantine, Hitler, Otto Loewi, Louis Agassiz, Madame Walker, Mary Shelley, John Lennon, Elias Howe, Neils Bohr, Abraham Lincoln, Stephanie Meyer (Twilight), General Patton, and many more!

The Dreams Behind the Music - presenting the music and amazing dreams which resulted in wildly popular songs from music legends such as Billy Joel, Paul Simon, Rolling Stones, Jimi Hendrix, Beach Boys, Pharrell Williams, Taylor Swift, LL Cool J, Bruce Springsteen, Van Morrison, David Bowie, Johnny Cash, George Frederic Handel, Beethoven and more!

Dreams and Our Final Transition - presenting dreams and tools to allay anxiousness surrounding this natural life transition for patients and families using dream re-entry, dream transfers, dream rehearsals and active imagination. Presenting several actual dreams of patients in hospice resulting in a welcoming connection to our deepest longing for resolution, hope and peace.



Click here to watch my new video on Youtube
Carolan's Welcome
http://www.youtube.com/watch?v=eE14B2AqXG8
Star's 2019 Classes and Music Workshops
At Swallow Hill Music School

Click for More Info

For the absolute beginner! Learn basic finger techniques, how to sit and hold your hands, using levers, tuning and simple songs to get you started, and how to play together and engage in musical conversations! If you need to rent a harp call Kolacny Music at 303-722-6081.


Access to music sets kids and adults up for success. Music education builds vocabulary, strengthens social skills, promotes literacy, enhances creative thinking.

Hand and Sitting Position at the Harp
The Parts of the Harp
Music Language Basics
Music Notation
Neighbor Notes and Every Other Notes
Placing and Brackets
Tuning the Harp
Two Hand Coordination
How to Change Keys Using Levers
Stretching
Avoiding Injury
Note Reading Tips
Practicing



© 2019 Star Edwards and Enoch Productions, Denver, CO. USA
. All rights reserved.